JARGON software
Your ForceField™ for business.
---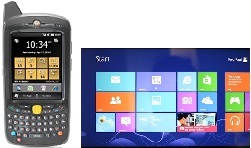 Mobile Business Software that Works - Freestanding or Connected
Jargon offers the fastest and easiest way to develop and deploy freestanding or connected mobile business applications linked to any back office system. Our mobile software works in any industry and for any application, including sales-order processing, field service, inventory, and inspections. We supply complete mobile applications along with full customization, installation, training, and support. Our open, Internet-based, award-winning technology allows fast development, no deployment issues, and runs on any Windows or Windows Mobile PDA, scanner, smart phone, netbook, notebook, or tablet.  
Your mobile users will never be hindered by their location, a slow or nonexistent Internet connection, or because your back office system is down or sluggish. Instead, they can make full use of your mobile app at ANY time or place, then go online when they choose (via a wi-fi, cellular, tethered or cradled connection).


---
Solutions tailored to your industry.
---
Satisfied customers.
"Truly the Jargon implementation has been trouble-free. In addition, the function was intuitive and easy to pick up."

 

"We estimated that Jargonsoft saved us roughly 6 months of development time and allowed us to bring our product to market in time for the annual National Recreation and Parks show."

 

"Jargon is the quickest and easiest way for our development department to put together handheld and Internet applications for our clients. It's also the easiest to learn."

 

"The Jargon piece has been solid from the start. The project is just about to enter the maintenance phase – meaning that enhancements are almost completed. Rollout went well. The X factor was the ability of the users to adapt to a new process. Some were like a fish to water, and some went kicking & screaming. ALL my inspectors at this point cringe at the prospect of ever going back to the 'old' ways of doing inspections with paper and pen."

 
---