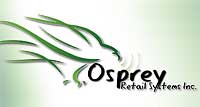 Osprey Communications case study.
Osprey Communications, a digital communication company that partners with pharmaceutical and health care clients, retains established clients and creates new business opportunities thanks to Jargon's mobile wireless solution.
Back to Who we help
---
Background
Osprey Retail Systems, Inc. was founded in 1990 by a small group of industry-leading POS integrators to develop state-of-the-art, general retail, in-store software for the Reseller Distribution Channel. Osprey writes the software and supports the channel; Osprey in turn is close to mutual customers and provides the local support presence that is so crucial to long-term systems success and usage.
Challenge
In Osprey's market segment competitors had a mobile wireless solution but they did not. It turned from "a nice to have" into a "must have", causing Osprey to lose business. They had no choice but to add a wireless module to the product mix. Osprey believed they were late to the game in comparison to their competitors and they acknowledged this by bringing this much-needed product into the mix. Osprey needed a development environment that would allow their business application developers to focus on the business logic. After evaluating (writing some test programs) it was clear to Osprey that the fastest and easiest way to get to where they wanted to be was by using Jargon mobile tools.
Solution
Osprey chose Jargon Software as a software partner and took a stance of equal to- or best- functionality at a price point 30 to 40 percent under the industry leader (StoreNext). The goal was to bring out a product that Osprey would not cut price on. Jargon mobile tools allowed Osprey to focus on what they know best. Jargon mobile technology calls 4GL business logic seamlessly. This is unlike Embedded VB or VB.NET which requires either using an ODBC connection or a call to ASP to retrieve the data from the database. The deployment of the application to the mobile devices works seamlessly with Jargon mobile.
Results
By adding a wireless module to Osprey's product mix they are now able to secure business that they were losing in the past. Other business opportunities are now available that they could not chase prior to having a mobile wireless module. They were placed into a position to react as the marketplace for this product had been fairly well defined. The ROI tells retailers that mobile is the way to go for increased productivity and improved store level efficiency. Based upon the business Osprey has brought in with the mobile products they believe there are several retailers they would not have received orders/commitments from without tham. The investment has clearly been valuable for the Osprey.