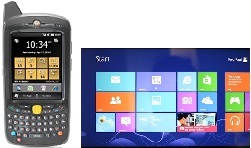 ForceField™ Specialty Apps
---
Inspection

BravePoint
Created a speciality mobile app that supports field personnel inspecting fire suppression and control systems in buildings and factories. 
New Hampshire Housing Finance Authority (NHHFA)
NHHFA created a notebook based mobile speciality app using our development tools and methodology, then won an award. Please read the case study.
Hennepin County
Created a speciality mobile app that is used to capture donation details during field recycling center events.
Garneau
Created a speciality mobile app that performs warehouse functions in an outdoors pipe warehouse in Canada. Please read the case study.
MedTox
Created a speciality mobile app used to enter chain of custody information for laboratory samples.  Please read the case study.
Field Service

Metro Garage
Created a speciality mobile app used by field service reps when repairing and/or installing residential and commercial garage doors.
Rainbow Tree Care
Created a speciality mobile app for field service reps to administer and record plant health care treatments.
Osprey Retail Systems
Created a speciality mobile app to add to their point of sale retail system. Please read the case study.
---
---
General
Online or offline.
User credentials
SSL as desired
Mobile Printing
Embedded SQL database with admin tool
Open Internet standards
Customers
Order History
A/R information
Multi-field search capability
Products
Large and small thumbnail image support
Bar code support
Category, sub-category search hierarchy
Order Entry
Call Schedule
Quick scan
Fast entry, minimal keyboarding
Signature capture
Order Aknowledgement
Order Guide
Build initial OG for each customer based on sales history
Vendor, brand, product line
Balances: quantity on hand, allocated, on order, available
Order Guide
Any connection will work
Download changes/additions to customers, products, pricing.
Large and thumbnail image support
Orders uploaded and frozen on mobile device
Signatures uploaded automatically
Easily download sales brochures, specials
Pricing Features
Unlimited alternate units of measure (with price conversion factors)
Catch weight pricing ("Price per LB" but sold by case or other unit) Invoice uses actual shipping weight, order uses average (standard) weight.
Promotional pricing
"Best-of" pricing option ("most specific" pricing is the alternative)
"Contract price" option (fixed price regardless of other pricing options)
"Floor price" option to set a minimum price that can be used on an order.
Route delivery extensions
Running inventory maintained on the mobile device. Initial load from back office system.
All items loaded on the truck would be entered into the mobile device inventory at start of day. Ability to enter odometer.
Inventory adjusted during the day per transactions. Return reason code. Some returns go back into inventory. Inventory adjustments can be made for many different reasons (damaged, etc).
Ending inventory daily reconciliation
Split tickets- create a separate credit memo from any returns. Optional, based on customer switch.
Post cash or checks to invoice and provide a settlement process. ROA (recd on account) can be posted to account, or a specific invoice. ROA prompts cash or check.
Ability to void invoice.
On hand quantities- week 1,2,3,4 in Order Guide.