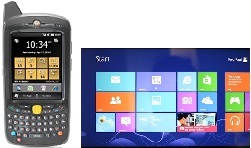 What we build.
Jargon mobile technology is a true thin client; most hardware devices running any version of Windows™ can be utilized.
---
Mobile Development Overview
Jargon Software products use patented technology allowing developers to quickly write and deploy thin client mobile applications which run online and/or offline. We utilize XML files to define the client user interface (UI), and embed Javascript for client side intelligence. Developers create applications that directly manipulate individual client components from any HTTP-compliant middleware, or via Javascript.
Our deployment engine downloads XML applications from a host, similar to reading web pages. Since these XML pages are hosted, deployment overhead is eliminated. Successful mobile applications must be able to run when disconnected. This results in the need to store local data. Jargon Reader can store lower volume data automatically in text, table and other components. Embedded SQL databases are used for higher volume storage requirements. Synchronization is achieved at the application level, resulting in more efficiency and eliminating the need for the additional expense of mobile middleware.
Support For Industry-Standard Middleware and Databases (Click to enlarge)
Today, knowledgeable IT managers demand solutions that support a variety of industry-standard middleware and database environments for enterprise applications. Jargon Software's product suite provides full support for adding powerful thin client mobile and desktop Internet applications to leading back office environments.
These XML-based client applications (developed with Jargon Writer) can be deployed with Jargon Reader in any of these environments. This powerful architectural feature preserves your investment in client-side software should you migrate your back office systems to another environment.
---
Hardware Examples
 Jargon Software products run on all versions of Windows (including Windows Mobile and Pocket PC), and works nicely on the items below.
 
 
 
 
 
 

Tablets

 
        


Ruggedized PDAs

 

Ruggedized Printers

 

Netbooks

 
 
                                                  
 
                                     
Winbook TW802
 
 Motorola Symbol MC65™
       DataMax®Apex 3®                          
Asus Eee PC
 Asus® VivoTab® M81C
 
 Motorola® Symbol® ES400™
 
 
  HP® Stream 7
 
Motorola® Symbol®MC70™
 
 
 Dell®Latitude 10 t®
 
 Motorola® Symbol® MC50™          
 
 
 
 
 Intermec® CN3™
 
 
  
 
 
 
 
 
 
 
 
 
 
 
 
 
 
 
 
 
 
 
---
Jargon Environment
Jargon Software solutions run on any version of MS Windows as well as all MS Windows mobile platforms including winCE, Pocket PC, WM5, WM6, WM6.5. Since Jargon mobile technology is a true thin client, most all hardware devices running the above operating systems can be utilized.
As a practical guideline to achieve good performance, the following hardware specifications ought to be considered:
For handheld devices: WM5, WM6, WM6.5, 240X320 screen (or better), 256 MB ROM, 64 MB RAM (or better), 400 MHz processor (or better) For notebooks, laptops, and netbooks: any windows platform, 256 MB RAM and up, any size hard drive.